A little spoiler up front: I haven't yet figured out how to make my art completely sustainable. But I'm thinking about it a lot, and I'd like to share that with you. If you're seriously concerned with sustainability, you often realize two things very quickly: The topic is extremely complex – and often we don't have a choice between sustainable or not, but only between more or less bad.
I have put together an overview of the topics that I encounter. Because I can't talk about "sustainable art" in general anyway, but only about how I, as a digital photo artist and travel photographer, try to make my actions sustainable.
However, I find it super exciting to think outside this photography box and would like to warmly recommend a wonderful podcast to you, if you understand German. In "Atelier-Talk" , visual artist Stephanie Hüllmann and photographer Nina Gebke (as well as some fantastic guests) talk about a wide variety of topics related to art and creativity. Very clear listening recommendation for the entire podcast – it is always super interesting.
The episode "Kunst und Umwelt – das knirscht ganz schön" (Art and the environment – a really tough fit) deals exactly with the topic of how sustainability and art can go together, and it inspired me a lot. Ultimately, this episode was even the trigger that led me to offer a different paper for my fine art prints.
If you're a photographer yourself and wondering how you can contribute to more sustainability, this blog may not be the answer to all your questions, but I'd love for you to at least take away some ideas.
If you're wondering how to be sustainable when buying art, you might want to jump right to the second main topic: Fine Art Prints.
What you'll find in this blog post:
The "Sustainable" Equipment
Let's jump right in with the major bummer. Electronic devices. Complex electronic devices are the prime example of the wide range of problems. Many people are familiar with the problems associated with smartphones, but unfortunately it's no different with digital cameras: Rare minerals that are often mined in troubled regions under completely non-transparent conditions. Assembly under poor working conditions. Technology-related short lifespan and often no possibility of repair. Problematic substances that cannot be recovered even when disposed of properly.
Fair and sustainable electronics is unfortunately still far away – even if there are already wonderful steps in the right direction. For a very good insight into the complex issues surrounding electronics, I recommend you visit Nager IT's website. Susanne and her team offer the fairest computer mouse currently available, and are patiently on their way to making it ever fairer and more sustainable, bit by bit.
My Cameras
When I discovered my interest in photography around the year 2000, I first took possession of my mother's old Nikon. Later I got my own analog SLR along with "new" lenses and other equipment – all of it 2nd and 3rd hand. I would like to say that the idea of sustainability played a major role here, but to be honest, as a student I simply couldn't afford anything else.
In 2005 I bought my first digital camera – the first and only one I bought new. My Nikon D70 has always served me well, and I used it for all the pictures I photographed for my diploma work. Some of my favorite subjects were taken with this more "semi" than professional camera. I ended up giving it to a family in The Gambia in 2008 – but that's another story.
The "upgrade" to the Nikon D200 was a classic win-win situation. A friend of mine had purchased a newer model, and didn't want to just dispose of his old camera – however, there were hardly any platforms for used photography equipment at the time, so he asked me if I knew of anyone who might want to buy it. I offered him one of my pictures in exchange, and continued to use this camera for over 10 years. And the "Fairy Forest" is still on his wall in Paris.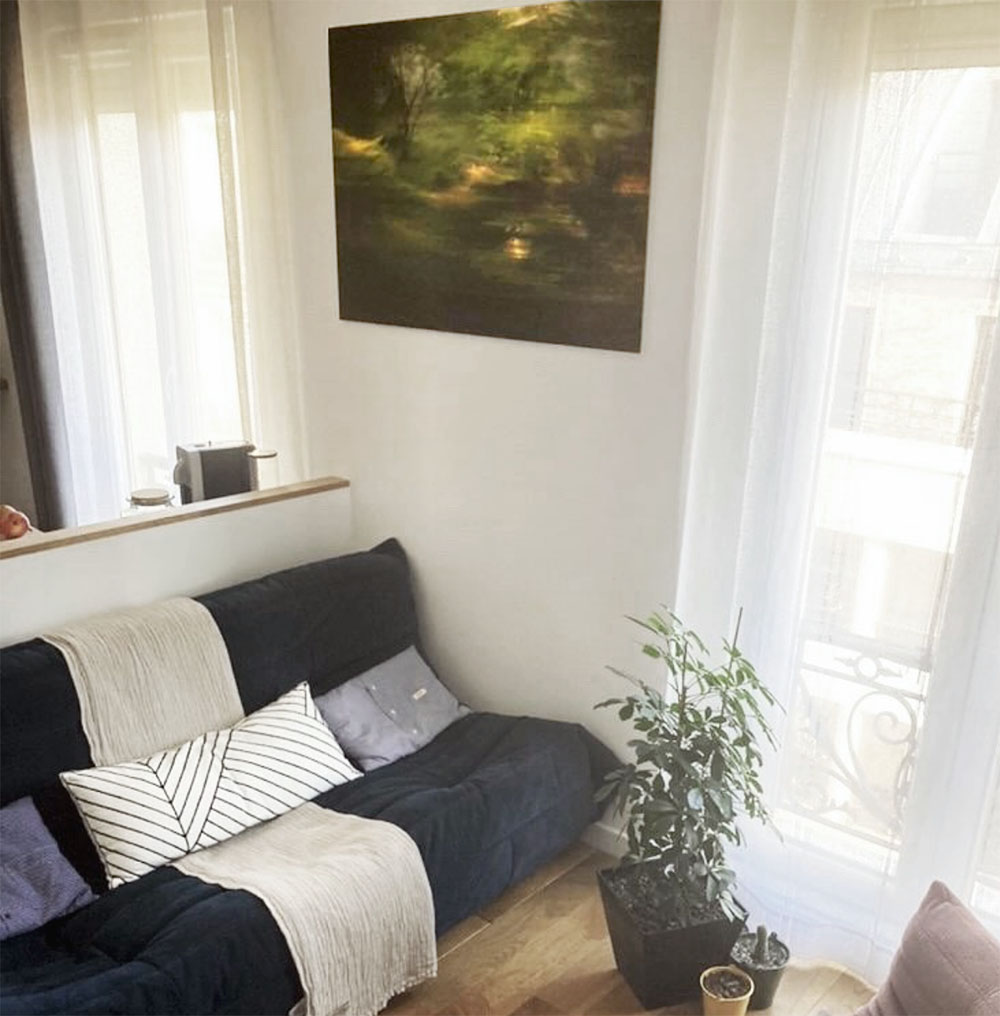 Fortunately, nowadays there are many ways to buy and sell used photographic equipment. I ordered my Sony Alpha last year from MPB (this is not a sponsored link). There you can buy refurbished used cameras and lenses and at the same time trade in old equipment. Apart from a long period of use and careful handling of the equipment, this is so far the most sustainable thing I can think of for the equipment.
Computer
My first laptop had a name. I had bought "Pierre" in 2005 during my semester abroad in Paris in a pawnshop-like place dealing in second-hand electronics – I think there are no such shops any more. "Pierre" was French (with a French keyboard), moderately cooperative, slow and heavy as a rock – hence the name. And I used it for years.
When Pierre really couldn't cope any more, I bought my first Macbook. At that time, Apple's environmental claim was something like: "The casing is made of recyclable aluminium". I'm glad that Apple seems to have really moved on, that the laptops are now actually made of recycled aluminium, and that the company has committed to net zero. I think I've been using notebooks for much longer than is usual, but after 6-7 years there comes a time when I have to buy a new one.
My current (2nd) Macbook is starting to make strange noises that worry me. The storage space, which was still able to cope with the amount of data from my Nikon D200, is quickly running out of steam with the monster files from my beloved new Sony (and because only one of the USB ports is still working, I have a very precarious construction of USB multiple plugs to transfer data directly from the memory card to the external hard drive…).
I'm afraid it will soon be time for a replacement. I'm going to buy a notebook again. Since laptops are optimised for battery operation, they are basically more energy-efficient than desktop computers, and besides, I can have them with me when I travel. However, I will probably buy a refurbished second-hand one next time, and give the old laptop to my son so that he can still use it.
So I don't really have a good solution here either except – as with the camera equipment – buy used and use it for a long time. Oh, and of course turn it off when not in use and close unnecessary tabs and apps (I may have to get better at that!).
Smartphone
My smartphone is not really part of my photo equipment, but especially since I discovered Instagram, it has become a valuable tool for my marketing. So far, I have only bought used smartphones – either privately or, most recently, through refurbed. (By the way, all "advertising" or mentioning of providers in this post is unpaid and unsolicited…). When the battery life gets too short, I get a new battery (or walk around with powerbanks in my pocket), and when the display is cracked, I secure sharp-edged spots with tape and carry on happily. Buy second-hand, use for a long time. I may be repeating myself…
There is the <a href="https://shop.fairphone.com/de/" target="_blank" rel="noreferrer noopener" data-type="URL" data-id="https://shop.fairphone.com/de/">Fairphone</a>, which I find really exciting as an idea. Made as fairly as possible, repairable, designed to last. Fantastic! Unfortunately, the only feature that I really find important is regularly rated mediocre to poor. I guess their camera just isn't that great. And so in a few years I'll probably be faced with the same question again: good camera or good conscience.
Fine Art Prints
Back when I was working with film and black and white, the environmental aspect was somehow still very tangible. I worked with toxic chemicals in the darkroom. It was clear how important it was to dispose of them properly. At that time, I honestly thought very little about where the photo papers came from or what they were coated with.
With digital photography, pictures are initially just files on the memory card and then on the computer. So before we talk about prints, here's a little digression on data: external hard drives have the same issues as electronics in general: they are simply not available as sustainable or fair products. I try to use them as long as possible and get rid of unnecessary "data junk" so I don't need so much storage space. Cloud storage just shifts the problem to some data centres where servers eat up power 24/7. That's why I only store my full-size images locally, and keep very small versions on my website and social media.
At some point, however, the digital image will finally have to come into the "real world". And again there is an almost unmanageable abundance of possibilities with advantages and disadvantages.
Pictures on the Wall – Frameless Installation
My diploma exhibition in 2007 was the first opportunity to show my landscapes in motion as wall art, since the diploma thesis itself was a book. I wanted to display the images framelessly. That was "the" form of showing modern photographic art at the time and it is still beautiful today.
Is Forex Sustainable?
For this occasion, I decided to have the prints mounted on Forex hard foam boards. Forex is a plastic – that scared me off at first. However, I was persuaded by a printer friend of mine (who offered the prints to us students at a very favourable price) with the following arguments: Forex requires very little energy in production, and the cuttings are super recyclable as a pure material – and were actually collected and recycled in the print shop.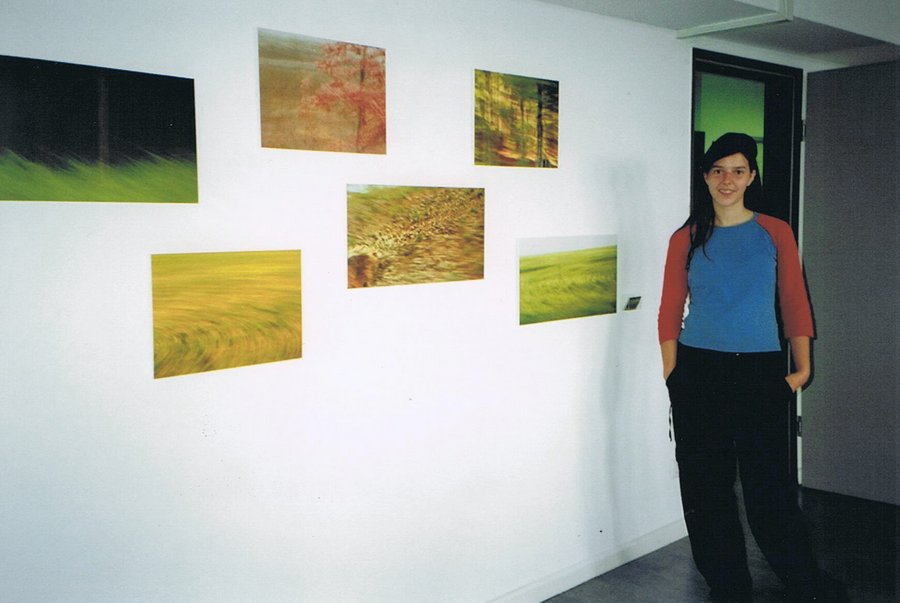 It works great for these small formats, and I used forex prints for all my first exhibitions. Unfortunately, at some point I realised that in larger formats they tend to warp and bend over time. As with all sustainability issues, I think you shouldn't only look at the production, but also at the entire life cycle of a product. And especially when you buy a limited original work of art in an exhibition, you don't just want to enjoy it for a few years, but for a lifetime.
Is Aluminum Dibond Sustainable?
Alu-Dibond: a sandwich of two thin aluminium plates with plastic filling. Actually an ecological nightmare. The production of aluminium requires bauxite, which is mainly mined in open-cast mines and the processing of which requires immense amounts of energy. Aluminium itself can be recycled well, but I cannot estimate how much of the production residue of this composite material is actually reused or recycled.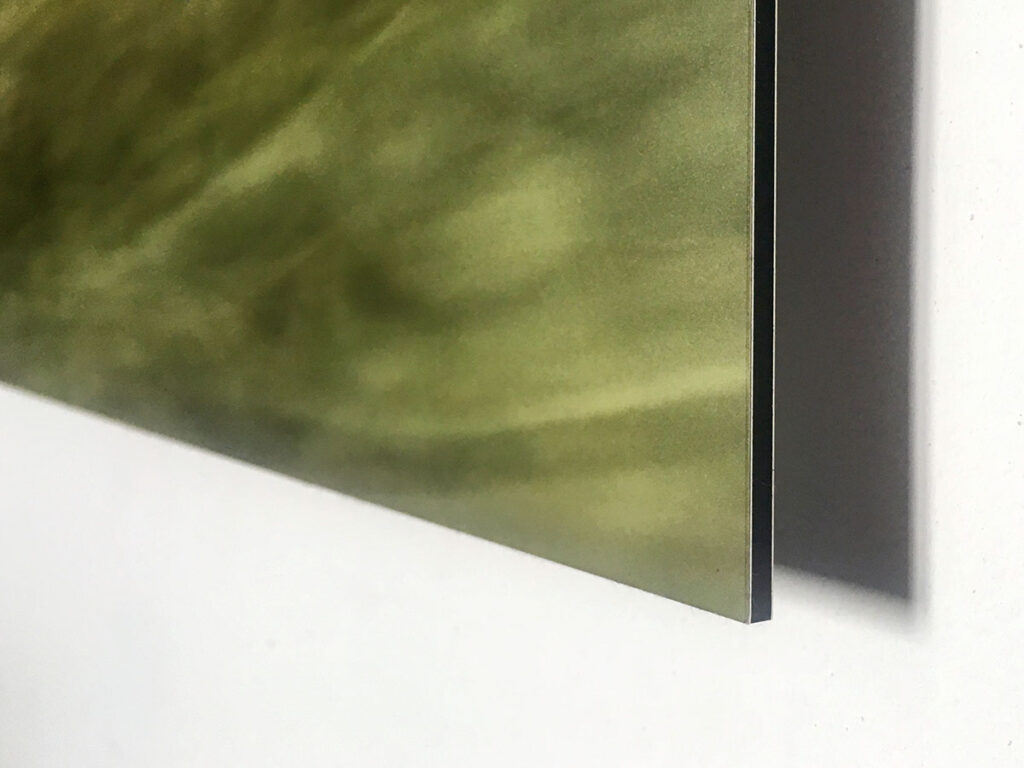 Nevertheless, I use this form of presentation for my large originals. I simply haven't found a comparably beautiful and, above all, durable presentation yet. After all, what use is a photo print on wood that doesn't do the picture justice and warps after a short time? I'll keep my eyes open to see if I come across a more sustainable alternative for frameless hanging. Until then, I concentrate on the aspects I can influence: I only have works produced when I have an exhibition and choose motifs that I can and want to show again and again. I prefer to give unsold prints on permanent loan rather than let them gather dust in the attic. Some of my pictures can thus be seen in the dining room of friends or in the practice of my favourite homeopath. Or in the vaccination centre of my hometown.
Because when someone buys an original from me, I want him or her to have an artwork for life that can also be passed on to future generations.
Pictures on the Wall – Fine Art Prints for Framing
After selling only limited and signed originals for a long time, I have decided for the new website to also offer open editions of fine art prints. Because not everyone who falls in love with a picture is an art collector. Not everyone values having a "number 1" that may eventually become super valuable. I chose high-quality pigment printing on Hahnemühle paper. I already tried out many different papers for my diploma book in 2007 and ended up with Hahnemühle back then.
Sustainable Fine Art Papers
Fine art and artists' papers are almost always made from cotton. Beautiful, smooth and durable papers are created from this material – but unfortunately the production is rarely sustainable. Cotton requires huge amounts of water in areas where this resource is limited. In addition, many pesticides are often used in production. Fortunately, Hahnemühle has a really comprehensive awareness of this problem, and with Hahnemühle Natural Line a very good approach to solving it (unpaid advertising – I'm just a fan…).
Much of the fibre can be replaced with various sustainably grown alternatives. After testing all the options, I was most convinced by hemp paper. All fine art prints in my shop are printed on this more sustainable material.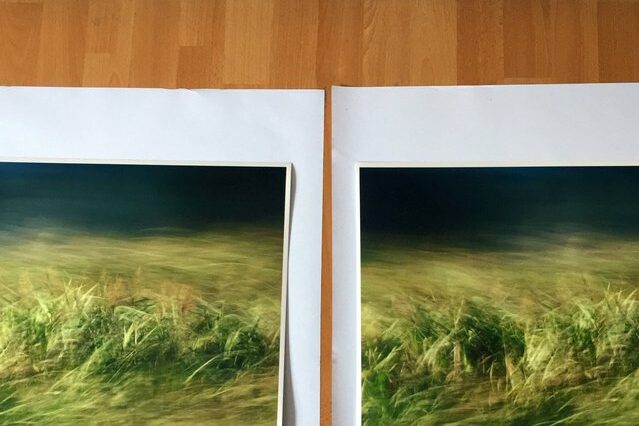 Frames for Fine Art Prints
I only offer my pictures here without frames; partly because I haven't found a sustainable supplier yet. If you buy a print from me and want to frame it sustainably, I would fall back on my old mantra: Buy used – use for a long time. Maybe you have a suitable frame yourself, or someone in your social circle. Maybe your dream frame is just a few clicks away on a second hand website, or you can find it at the next flea market. Maybe you even have the craftsmanship to build a frame yourself – for example from recycled wood?
If you want to buy a new frame, I recommend you go to a local specialist frame shop. There you can find out about the materials and get the advice that will ensure you are happy with the frame for a long time. You also support the local retail trade.
If you know a supplier of sustainable picture frames: Please leave me a comment or send me an email. I'm really struggling with not being able to offer anything here.
Packing and Shipping
When I order mounted prints from my trusted print shop, they are wrapped in air bubble wrap with foam corners and edge protectors. All this is then secured with adhesive tape. Just about a plastic fest… The outer packaging is, after all, a custom-made, sturdy cardboard box. I then try to unpack the prints as non-destructively as possible (I mean destroying the packaging – the print always remains undamaged, of course 😅) and always recycle the packaging material. This works great for exhibitions. For shipping to customers, however, I have so far always used new air bubble wrap to make it look more premium. In the future, however, I'll ask if "second-hand wrap" is okay before shipping.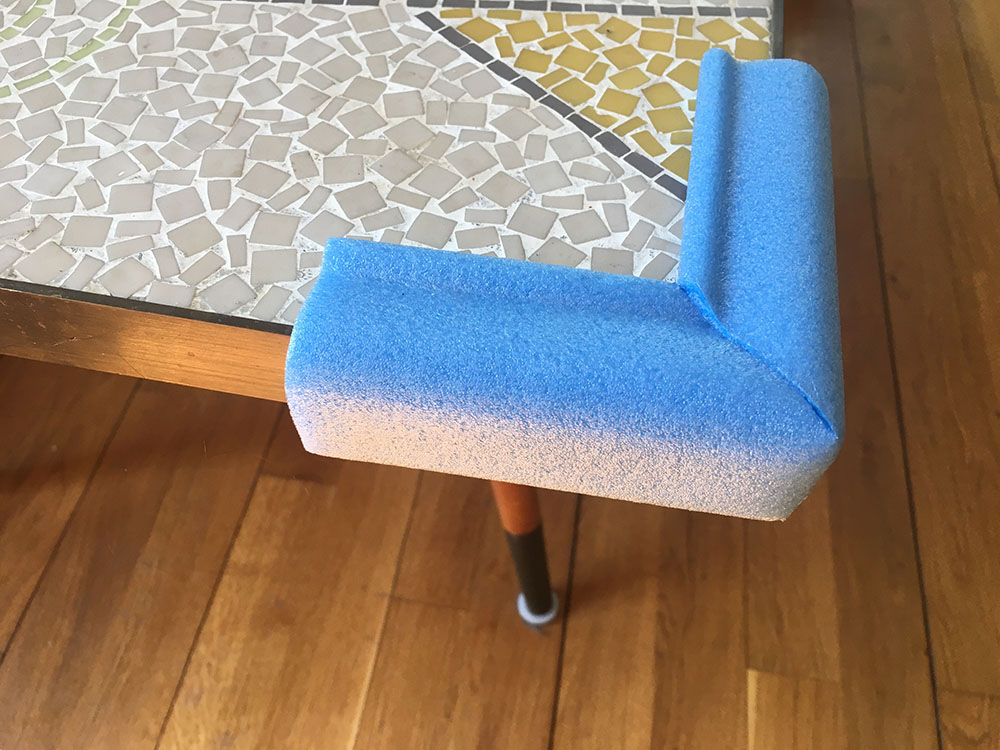 The shipping of my fine art prints is much more appealing: they come wrapped in paper and rolled in a sturdy cardboard sleeve, the plastic lid of which weighs in at a reasonable 30 grams of PE. Why do I know this so well? Like every retailer who puts any kind of packaging into circulation, I license all the packaging materials I use for shipping to customers down to the gram via the German "Dual System". This is how companies finance the provision of recycling infrastructure. When I found out that I had to do this licensing, I was quite intimidated at first. But fortunately it's surprisingly easy. And it made me think about how I package and ship my art even more.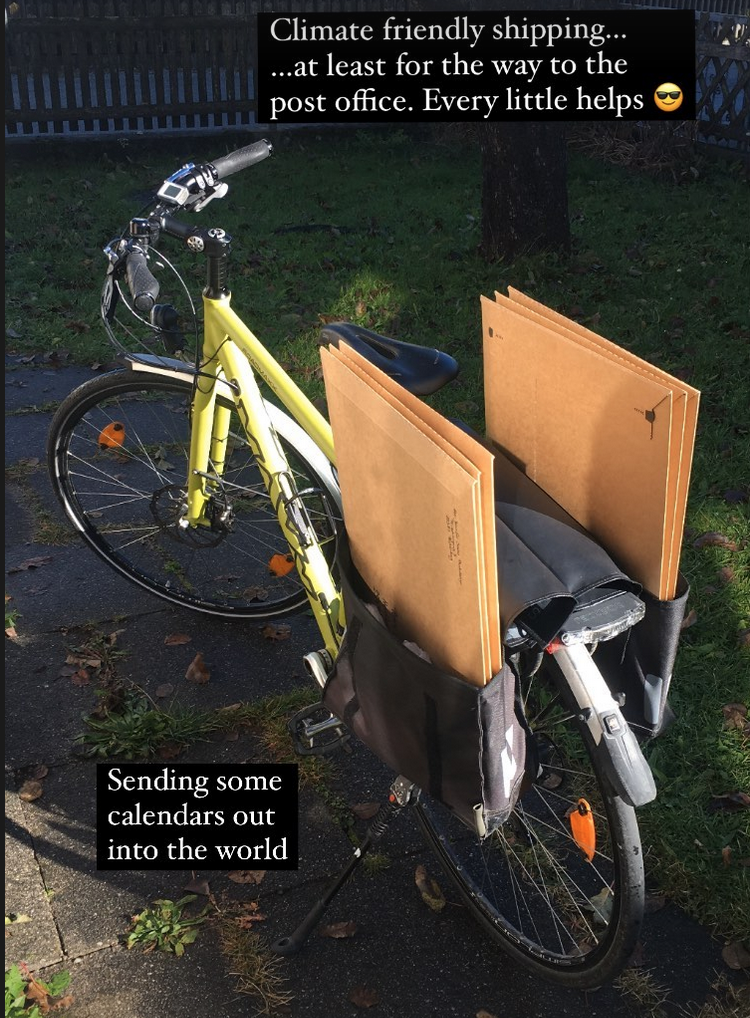 …and all the Rest
For the overview of this topic, I have been able to follow a quite good framework – the sustainability of all "production steps" chronologically, from the creation of the picture to its hanging at the customer's house. But that's not all, of course. What happens beforehand? Where do I take the picture? How did I get there? How do I market my art? What else do I produce?
Sustainable Travel
Let's not fool ourselves: Of course, travelling by train is much more sustainable than flying. But travelling by train also has an ecological footprint. Of course, this is due to the transport itself, but also to the surrounding products – the food on the way, the to-go coffee cup, plastic-packed knick-knacks in the hotel. I try to avoid this as much as possible, by at least always carrying a water bottle and my own coffee mug, and staying with private hosts whenever possible. (My couchsurfing experience while travelling with the Connecting Europe Express would be worth a blog post of its own ;-) )
It's easier with "trips that happen anyway". In 2015, I was travelling in China and Taiwan for a client, and had appointments in very different places. Unfortunately, I couldn't negotiate going all the way by train, but I didn't need a single domestic flight on the whole trip. Instead, I used the impressive infrastructure of high-speed and night trains. This resulted in one of my favourite series: Made in China.
My big vision is that my art will motivate people to take the train again. Even and especially for journeys that are coming up anyway. Particularly for business trips. Let's make that the new normal!
The Online Footprint
I already touched on this briefly when talking about equipment: All data stored "on the internet" consumes electricity somewhere in the world. For some items, we have a lot of control: this website, for example, is on the server of my hoster ALL INKL, which operates its data centres with 100% green electricity. For other platforms, we can only guess…. For example, I have no idea where my Instagram posts are stored, or the email attachments from my Yahoo address.
Since I realised that it is relevant how much data I have "in the cloud", I do the following: I store images for social media in small formats and highly compressed (I've been doing this for a long time, also so that they don't get misappropriated…). I am also in the process of deleting all the emails I no longer need. This is a mammoth task, of course, but I have developed a little routine that takes me step by step in the right direction: When I get a message that doesn't interest me (for example, a request for a review after an online purchase), I look for all messages from that sender, and delete them collectively. If it's a newsletter I no longer read, I unsubscribe beforehand, of course.
Search queries also consume resources, and a surprising amount in total. A quick search on the internet yields an illustrative figure: per second, Google emits so much CO2 by processing search queries that it would take 23 trees to bind it again. By the way, an artist has calculated this and created an impressive webseite about it. Have a look at this article as well: 23 Bäume um eine Sekunde googeln wiedergutzumachen. (23 trees to make up for one second of googling).
I use Ecosia in my daily life, a search engine whose data centres are powered by self-generated solar energy and which plants trees with its revenue. If you have any other good ideas on how we can be more sustainable on the internet – keep them coming!
Printed Products
In addition to originals and fine art prints, I also have other print products – which always pose challenges.
Sustainable Postcards
When I wanted to produce postcards on a large scale for the first time in 2009, I did a lot of research on the topic of "sustainable print products". Environmentally friendly inks are mainly available in offset printing, and that only really makes sense for large print runs. So I developed a sponsoring concept to have my 20 favourite motifs printed climate-neutrally on recycled paper in a run of 1000 copies each. I chose Druckerei Lokay my partner for the print, which was and still is one of the most sustainable providers in Germany and which I can only recommend wholeheartedly to everyone.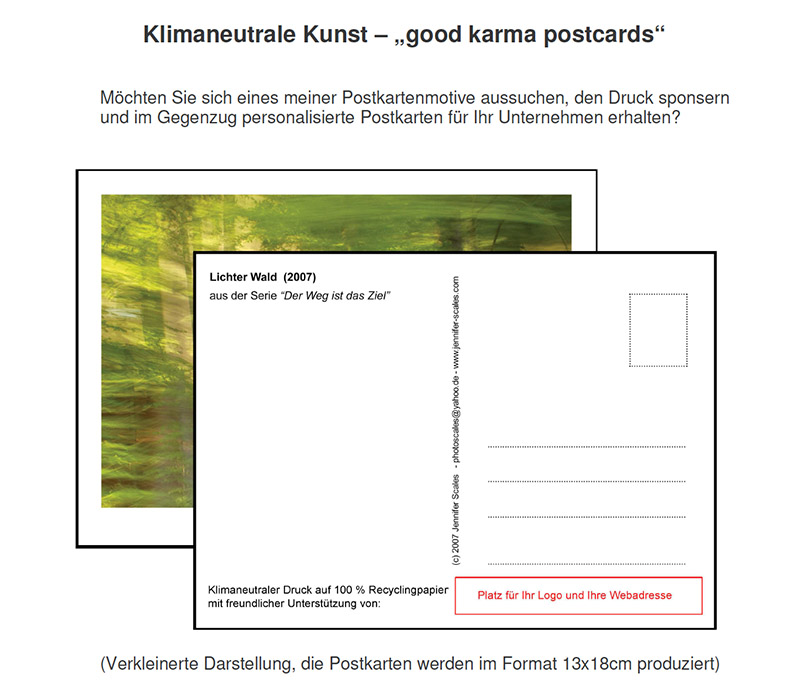 What I didn't expect was that some visitors to the exhibition were incredibly irritated by the "advertising" on the postcards. While some thought it was a great idea and were happy to buy the cards, others were convinced that postcards with advertising always had to be free. Besides, I had completely underestimated how long it takes to get 20,000 postcards out to the people (even if they are free ;-). When I became a mother in 2010, I focused less on exhibitions, and when it started again, I naturally wanted to show newer motifs, and offer matching postcards… Long story short: I still have a considerable stock of postcards from this production. They currently accompany my permanent exhibition at the Vaccination Centre. I solved the "advertising or art" problem this way: The cards are free of charge, but next to them is a donation box for the "Johanniter Unfallhilfe", the NGO that runs our local vaccination centre with great dedication.
Today I print postcards digitally in smaller runs. Especially for exhibition invitations, I choose natural or recycled papers, on which good colour reproduction is nowadays also possible. I try to estimate the print runs realistically so that as little as possible is left over, and I always diligently click on "CO2 compensation" when ordering online. But how is it possible that the CO2 offset for the production of 200 folded cards is available for 12 cents?
At some point I would like to have truly sustainable cards produced again – let's see what concept will make that possible.
Sustainable Calendars
Since 2007, I have had a calendar produced almost every year. The edition was usually 100, which I then numbered and signed by hand. Because of the number of copies, digital printing was the only option right from the start. Back then, as a student, I chose the print shop mainly because of the price; I stayed with <a href="https://www.saxoprint.de/ueber-uns/umweltschutz" target="_blank" rel="noreferrer noopener" data-type="URL" data-id="https://www.saxoprint.de/ueber-uns/umweltschutz">Saxoprint</a> because of the good print quality and the great customer service. Even though as a customer the only way I can contribute to sustainability is through "CO2 offsetting", a lot is happening at the moment. The print shop now uses mineral-oil-free inks, optimizes paper utilisation through a collective printing process, and sponsors public transport tickets for its employees. Since the year 2022, production is also run entirely on green electricity. I think it's great that such developments are not only happening in "green" print shops, but are slowly becoming the standard.
Oh yes, calendars are of course products with an expiry date. However, I know from many of my customers that they still keep the calendar up with their favourite motif after the end of the year – that is one of the reasons why I have designed such a minimal design for the days and months. In the meantime, however, I have found an even more charming solution for making the calendars last longer. I have discovered mounts whose cut-out fits the calendar pictures exactly. As soon as I have found a solution for safe shipping, I will offer it on my website. If you are already interested, please contact me directly.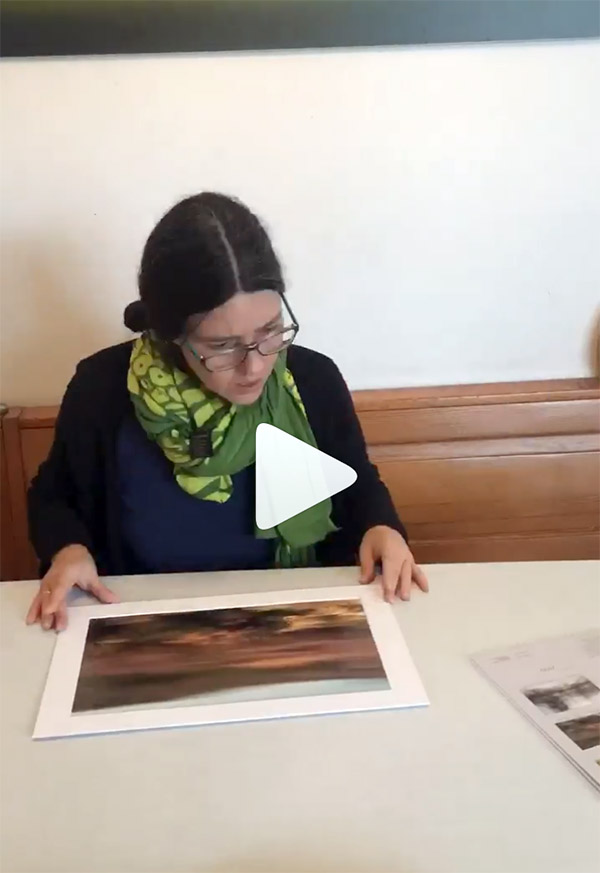 Conclusion
There is Still so Much to Do – Let's Get It On!
If you have good ideas about sustainability in art, if you want to share with us how you make your everyday life more sustainable or if you just want to leave your thoughts: Feel free to write a comment for this blogpost.