Jennifer Scales – Moved by Beauty
I love nature, travel and photography. And one day, I found out that there is a way of combining these three passions into something wonderful.
When I started studying photodesign in 2003, I still thought I´d be just a "normal" photographer once I´d got my diploma, but then I got hooked on travelling…
I had fallen in love with Paris when I did my practical training semester there, and then used every opportunity to visit this amazing city. The day after I bought my first digital SLR, I was once again on the night bus, and started playing around with my new toy. As the light faded, and the shutter times grew longer, I started seeing the first results of capturing the motion through the landscape.
I was thrilled, and began to exlore the wonderful worlds of motion and blur. Needless to say; I chose experimental photography as a main subject in the remaining years of my studies, and when I did my diploma work (Der Weg ist das Ziel, 2007), it was the essence of what I had learned so far.
By that time I had already decided that the world had enough photographers for doing the "focussed" pictures, and became an artist instead. Since then, I have studied landscape in motion from all kinds of perspectives, but most of the time, through the windows off moving trains: going 200 miles per hour in the French TGV, or moving slowly through nature, taking the Railjet to Vienna or the Eurostar to London. Later, I added more exotic surroundings. Taking pictures through open doors in a slow Indian railway has it´s own charm, and so has the view from modern Chinese and Taiwanese high speed trains.
And I´m still moved by all the beauty that I find through my lens…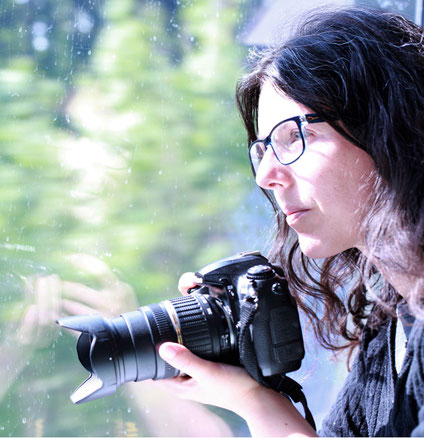 "A great photograph is one that fully expresses what one feels, in the deepest sense, about what is being photographed."
– Ansel Adams